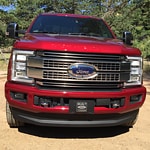 Most heavy-duty trucks are designed to last. However, the popular Ford Super Duty takes durability to an insane level thanks to some of the most intense stress testing even done by an automaker. Let's take a look at the lasting durability of the Ford Super Duty.,
First, the engineers at Ford has put the Super Duty through 20 million miles of stress testing. That includes putting the Super Duty through mud, snow, rain, gravel, rocks and everything else that the Super Duty can encounter in the real world. To ensure that the Super Duty will last for years, the truck was intentionally tested with worn and broken parts to ensure that it can still run. Yes, this is a truck that will outlast the competition.
You will want to check out what the Ford Super Duty can do on the road. That's why we are inviting you to take a test drive at Klein Ford Inc. Take the Super Duty for a spin today.