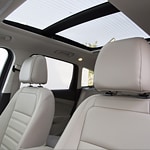 Capability features help make cars easier to drive, and their inclusion in modern vehicles has made the experience of many drivers much better. Here at Klein Ford Inc, the Ford Escape has generated acclaim and attention as a compact SUV with a real focus on capability.
The Escape comes equipped with selectable drive modes, which makes different surfaces like sand or snow easier to maneuver through. These drive modes come as standard modes but can also be customized to fit your preferences! Another feature which we would like to see on more vehicles is a towing capacity of over 2,000 pounds - with strength like this, SUVs might be on their way to making pickups obsolete!
The Ford Escape has left a real impression on our team here at Klein Ford Inc. If you want to see for yourself what the Escape can do, then feel free to test drive the SUV at our location.