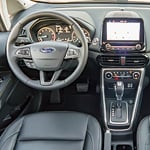 Manufacturers working at Ford have clearly decided to up the ante recently because the Ford EcoSport is one compact crossover vehicle that definitely stands out from the rest. What makes us say that here at Klein Ford Inc? Well, besides its usefulness and reliability, the EcoSport also delivers amenities and luxury.
Obviously, what one considers to be the best amenities of any vehicle is clearly subjective. However, we're very impressed that the EcoSport has so many to choose from! Features like the heated steering wheel and leather-trimmed seats are definitely worth mentioning, and both will certainly make your life a bit better. However, our personal favorite is the B & O Sound System, which was made specifically for the Ford Ecosport. That means every angle, every piece of cushioning, etc - it was all made to deliver the best sound possible.
Come experience the Ford Ecosport yourself by test driving one at Klein Ford Inc.